Introduction 
The inner layer is very vital during hiking and activities because that layer comes into direct contact with your sensitive skin of yours all the time. The inner layer is accountable for protecting your skin and maintaining body temperature. So, the inner layer must be quick-drying, absorbent, and breathable to help you feel good all day. The best base layers for physical activities are made from Merino wool, polyester, or nylon. Also, sometimes a blend of these fabrics is used too.
Merino wool is the first choice for selecting base layers because it gives good breathability and moisture-absorbent performance compared to the other two materials. Also, Merino wool is antimicrobial naturally, exceptionally soft to the touch, and provides exceptional UV protection. However, the material has drawbacks, like it is comparatively higher in cost, dries a little slower, and is less durable than the other materials.
Below is some of the best merino wool-base layer for hunting, skiing, trekking, and other physical activities.
Merino. tech Merino wool-base layer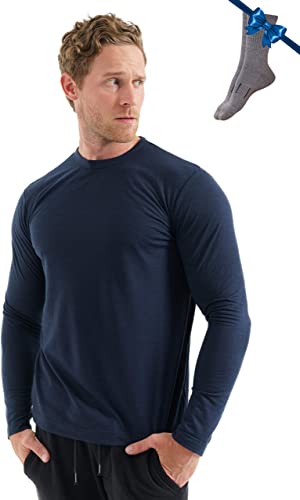 This Base Layer gives all-day comfort and does not irritate the skin. It is made for daily wear without overheating, rubbing, or bunching pure cotton. The material is super soft and convenient. The material is naturally wicking with no foul odor, which allows it to soak moisture better than any other material. It also helps in keeping you dry and feeling fresh.
The merino wool, which is a washing machine and dryer safe. It is a heavyweight merino-wool-base layer. For durability, hand wash and air dry the fabric. This merino wool-base layer controls body temperature to keep you cozy and comfortable. Also, this is a 400g merino wool base layer. The company gives 60 days warranty guarantee and hassle-free returns.
Pros 
Does not irritate the skin

Made with care for the comfort

Super soft material with moisture absorbent properties 

It keeps you dry and fresh
Cons 
The size may not be exact

The material might be thin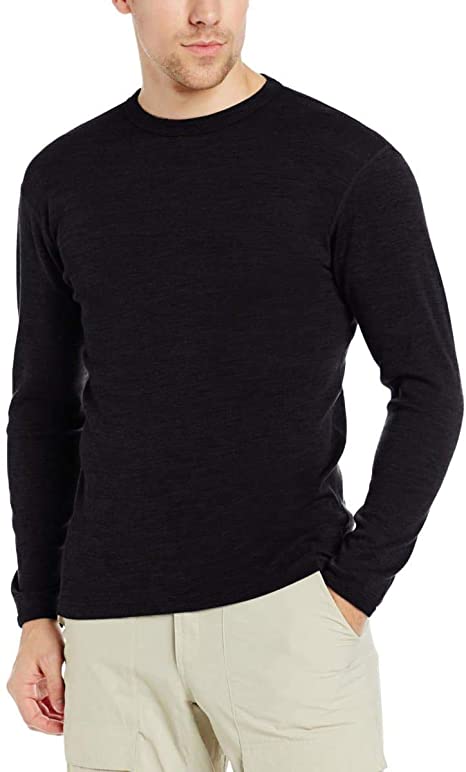 The product is 100% Merino Wool, super soft, and comfortable. The most popular in easy-care means your merino wool can be machine wash and is dry friendly. Its flexibility and warmth make the product a three-season thermal and is a vital part of your outdoor activity. The company gives one of the vastest size choices. And can fit any size accurately with no worries.
It is 100% 18.5 Merino Wool and weighs 230 g/m2. It gives a UPF Rating of 50+, which makes it the merino–wool base- layer for hunting. This company has built its trust for over 100 years in the United States. The brand is known for the worth and comfort of its Merino Wool apparel. And are dedicated to bringing you the best Merino Wool products at a low cost.
Pros 
Fabric is soft and comfortable

It gives good flexibility and warmth 

The apparel comes in several sizes

Has a UPF 50 plus rating
 Cons 
Quality might not be great

Might have holes
Merino Wool 706 Kancamagus Midweight Bottom
The merino wool bottom is very soft and highly comfortable. It is the best in easy care, which means your merino wool bottom can be machine washed and dried. Flexibility and warmness make this three-season thermal bottom a significant part of your outdoor activity.  
The 100-year-old USA-based woolen company knows the value and comfort of Merino Wool. Also, we are devoted to delivering you the finest Merino Wool products at a favorable price. It is one of the best base layers for extreme cold. The product is 100% merino wool and weighs 230g/m2.
Pros 
The product comes in several colors

It keeps you warm and cozy 

Comfortable and worth the price

Fits well
Cons 
May have holes 

Is not durable
Organic Merino Wool Lightweight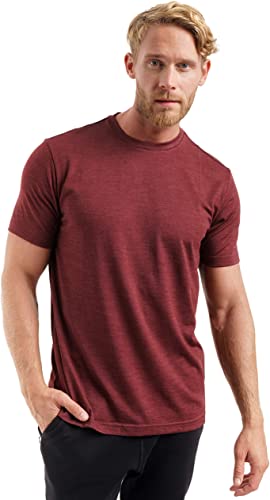 The T-shirt is super lightweight and gives a comfortable fit. The fabric is natural and 100% organic with moisture absorbent, odor-free, and non-itch properties. This Ultralightweight T-shirt is designed for the day-to-day chore with no rubbing, bunching overheating of cotton. Also, the T-Shirt gives UPF 20+ shield by obstructing harmful rays from the sun, which makes it favorable for all seasons.
The Merino wool t-shirt is machine washable and dryable on the Wool cycle and LOW Tumble dry technology. It weighs 165 g/m and helps in regulating body temperature. It is the best merino–wool base – layer for skiing.
Pros 
Odor and itch resistant 

Ultra-lightweight 

It gives a UPF 20 plus shield 

It helps in regulating body temperature
 Cons 
It might have some defects 

It might not be durable
Women's Lokke Half-Zip Base Layer Top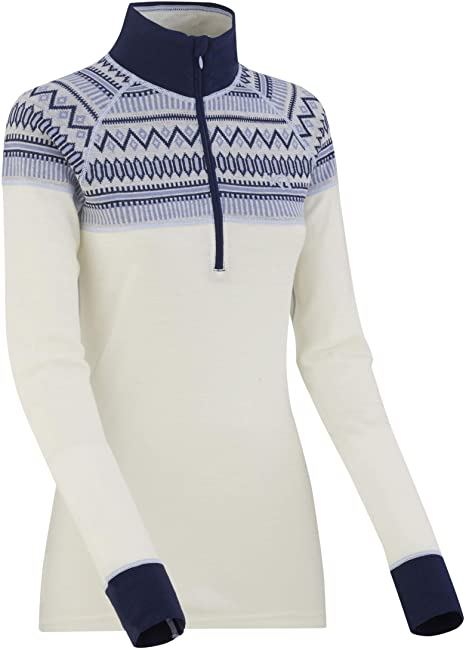 This Sportswear has been designed to fit any female body flawlessly. The base layer is designed with the help of body mapping and must be skin fit. For best warmth, we suggest selecting your ideal clothing size for cleaning; use machine wash and do not use fabric softeners.
It is a 100% Merino Wool Thermal shirt for women and is perfectly soft for your skin, breathable, and naturally odor-free. The Moisture regulation properties with quick-dry fabric and an ideal winter with 100% Merino Wool for your high-intensity outdoor gear. Also, it is the best base layer made of merino wool for hunting. 
Pros 
Fits perfectly well 

Gives good warmth 

Odor-resistant

Soft fabric
Cons 
Not available in many colors

Not suitable in warm weather 
FAQs 
1. Which is the warmest base layer?
Base layers made of merino wool are the best as they are breathable, soft fabrics that do not irritate your body and make you feel comfortable all day long. They also help in regulating body temperature according to the weather.
2. What fitting should the base layer made of merino wool be?
The merino-wool base layer should be tight enough, particularly in the first fit. That helps in moisture-wicking and keeps you dry and fresh.