Crocs have become a popular footwear choice for daily wear, but are they suitable for hiking trips into the outdoors? This guide examines if Crocs are the right footwear choice for different types of hiking excursions.
What are Crocs?
Crocs are lightweight clog-style shoes made of a proprietary closed-cell resin called Croslite. Key features include:
Ventilation holes – The upper has holes for airflow to keep feet cool.
Textured tread – The sole has treads and ridges for traction.
Comfortable footbed – The footbed conforms to the shape of the foot.
Versatile – They can be worn as slides, clogs or sandals using attached Jibbitz charms and straps.
Easy to clean – The solid resin can simply be washed or wiped clean.
Floatable – The foam construction allows them to float in water.
Affordable – Basic models start around $35-$45.
Originally intended as boating shoes, Crocs gained popularity as everyday wear. But how do they perform as hiking footwear?
Factors to Consider for Hiking Footwear
Hiking footwear needs to provide qualities like:
Traction – grippy outsoles that cling to varied terrain underfoot.
Ankle support – stabilizes the ankle joint on uneven ground.
Comfort – cushions and supports the foot during long miles.
Protection – shields the foot from impact, abrasion, moisture.
Durability – withstands rugged use on rocky trails.
Not all hiking trips require maximal performance in these areas. The needed features depend on the hike's specific conditions.
When Are Crocs Acceptable for Hiking?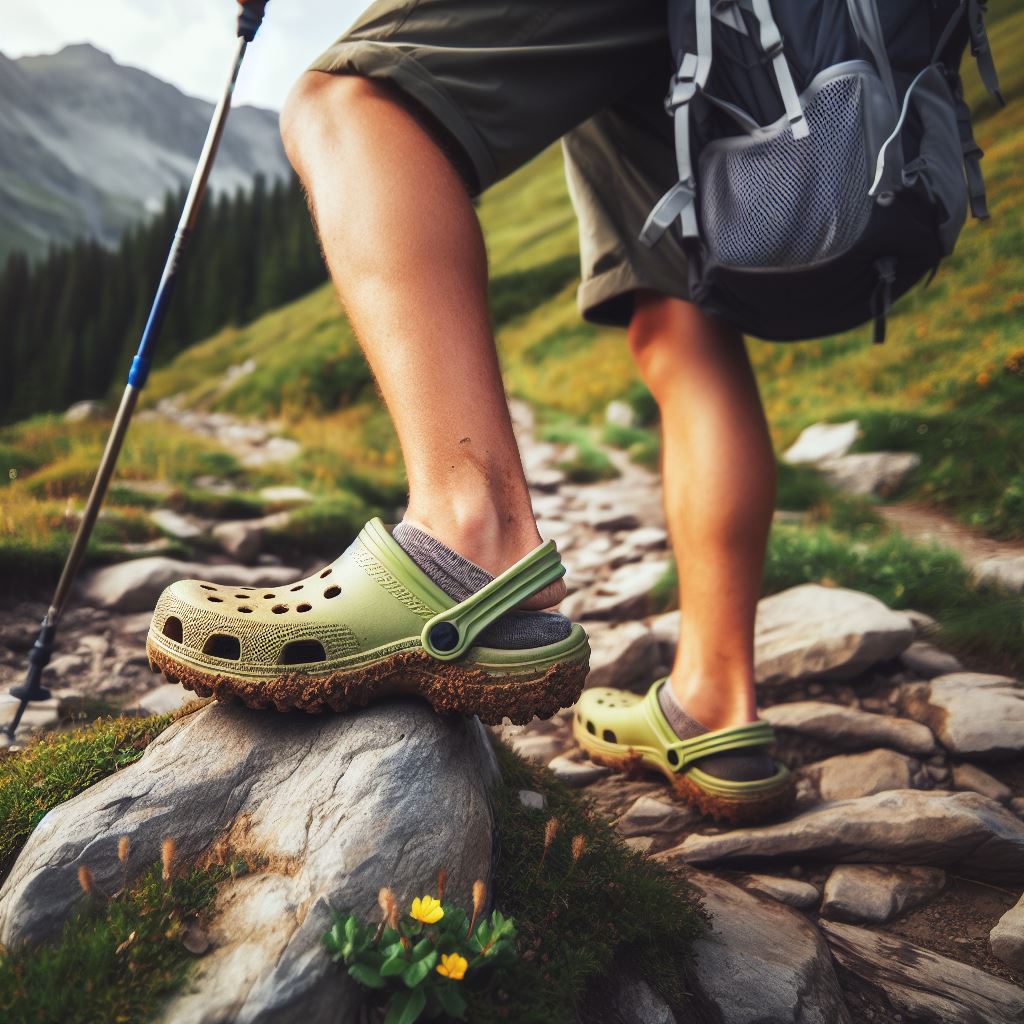 Crocs can be suitable hiking footwear in certain circumstances that align with their strengths. Consider Crocs for:
Casual day hikes – Short 1-2 hour hikes on wide, groomed trails demand less of shoes.
River crossings – Their waterproof foam and floatability aid in safely fording streams.
As camp shoes – Light and breathable, they make comfortable shoes for after hiking.
Beach and waterside walks – Ideal for hiking alongside the water and in wet or sandy conditions.
General travel – Extremely packable extra pair of shoes.
For less challenging hikes without heavy packs or technical terrain, Crocs offer reasonable utility.
When to Avoid Crocs for Hiking
However, Crocs have limitations that make them a poor choice for more demanding hikes:
No ankle support – Clog design provides zero ankle stabilization or protection.
Minimal traction – Flat treads don't grip well, especially on steep, loose, or rocky terrain.
Unstable stride – Clogs lack structure for a controlled heel-to-toe stride.
Poor impact protection – Thin soles transmit shock through feet.
Not durable – Easily scuffed and damaged by scrambling over rocks.
Unstable load carrying – Difficult to handle heavy backpacks.
Limited weather protection – Ventilation holes let in dirt and moisture.
For challenging hikes, a more capable hiking shoe or boot is strongly recommended over Crocs.
Features to Look for in Hiking Footwear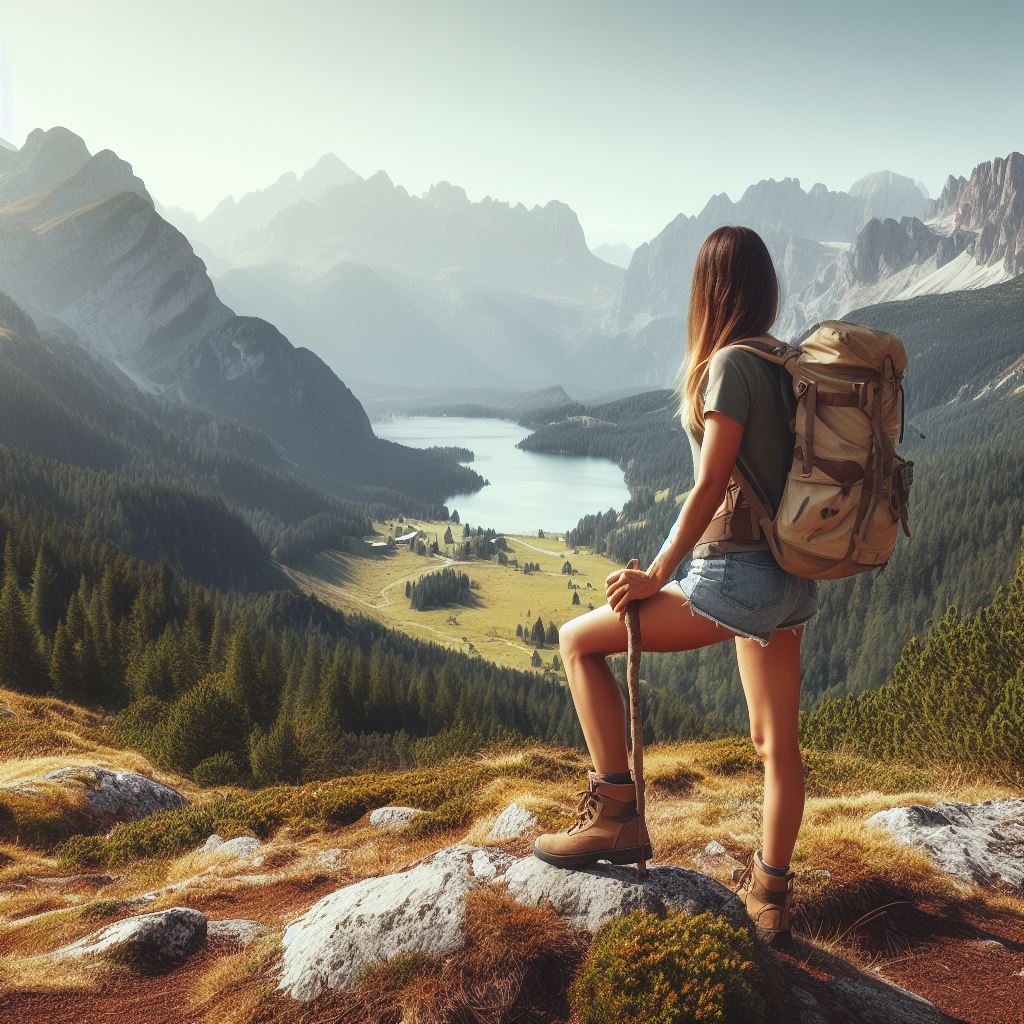 When selecting proper footwear for demanding hikes, seek shoes or boots offering:
Ankle support – Rigid uppers control rolling and stabilize the ankle. Look for mid-height or high-cut models.
Traction lugs – Deep, grippy rubber lugs on the outsole cling to varied terrain.
Shock absorption – Cushioning midsoles soften impact from repetitive foot strikes.
Stability and control – Stiff construction controls foot motion and torsion for a sure step.
Weather resistance – Waterproof membranes and full-coverage uppers block moisture ingress.
Durability – Upper and sole materials withstand abrasion from rocks and roots on long miles.
Secure lacing system – Provides a snug, customized fit for optimal control and comfort.
Prioritize hiking-specific footwear when you need serious performance for challenging backcountry trips.
Hiking Boot and Shoe Models to Consider
These popular hiking footwear options deliver ample performance for rigorous trips:
Boots
Salomon Quest 4D 3
Lowa Renegade Mid
Oboz Bridger Mid
Scarpa Zodiac Plus
Vasque St. Elias
Shoes
Merrell Moab 2 Mid
Oboz Sawtooth II Low
Salomon X Ultra 3 Mid
Keen Targhee III Mid
La Sportiva Wildcat
Try models at your local outdoor retailer and select the boot or shoe that best matches desired features for your hike.
Using Crocs Responsibly as Hiking Shoes
If wearing Crocs hiking, be a responsible hiker and user by:
Consider conditions – Only wear them on straightforward, dry terrain to limit damage.
Check fit – A snug fit helps avoid tripping hazards and friction blisters.
Use straps – Added heel straps improve security and stability.
Tread carefully – Take deliberate, flat-footed steps to manage their poor traction.
Pack spare laces – Bring an extra strap in case one breaks miles from anywhere.
Inspect frequently – Check for tread wear and cracks in the uppers that can cause failures.
Accept the risks – Recognize Crocs offer less protection and ankle support if you twist an ankle.
Bring better shoes as backup – Have real hiking footwear in your pack in case you need more performance.
Key Takeaways – Crocs for Hiking
Crocs work best for casual day hikes with no heavy pack.
Avoid them for challenging, technical terrain due to poor traction and ankle support.
Look for hiking shoes or boots built specifically for backcountry use if you need performance.
With care, Crocs can play a limited role as camp shoes or for simple hikes.
Ultimately, choose footwear that supports the type of trip you want to experience.
Frequently Asked Questions about Crocs and Hiking
Are Crocs good for hiking long distances?
No, Crocs are not recommended for hiking long distances or multi-day backpacking trips. Their lack of cushioning and structure leads to foot pain over many miles with a heavy pack. Stick to well-designed hiking boots and shoes for lengthy hikes.
Can you hike in Crocs in cold weather or snow?
Crocs perform very poorly in cold weather and snow. Their ventilation holes let in cold air and snow, and they lack insulation. The treads also grip poorly on snow and ice. Choose winter-specific footwear like insulated waterproof boots instead.
Do Crocs prevent blisters when hiking?
Not necessarily. While the Croslite foam is fairly smooth, Crocs' loose fit, lack of socks, and repetitive friction can still lead to blisters on long hikes. A proper snug hiking shoe with good socks will better minimize hot spots leading to blisters.
Do Crocs have good traction on hikes?
No, Crocs offer only modest traction for hiking purposes. The shallow, minimally spaced treads grip decently on many surfaces but are unsuitable for loose, muddy, steep or rocky terrain where more aggressive lug soles are needed.
Are Crocs better for hiking than sandals?
Crocs have some advantages over regular sandals like more foot coverage and tread. But sturdy hiking sandals designed for trail use typically outperform Crocs for hiking due to having better traction, toe protection, stability and secure strapping systems.
Conclusion
For non-technical day hikes or water activities, Crocs can fill a niche as a comfortable and fun footwear choice. But for serious hiking over challenging terrain or covering long distances, leave the Crocs at home. Instead, lace up a legit pair of hiking boots or shoes suited for the rigors of the trail. Your feet will thank you!