Blundstones, also known as Blunnies, are a type of boot originally made in Australia that have become popular worldwide. With their stylish look, versatility, and comfort, it's understandable why some hikers may be interested in wearing Blundstones on the trail. However, are Blundstones actually a good choice for hiking? Let's take a closer look at how these boots perform for hiking.
An Overview of Blundstone Boots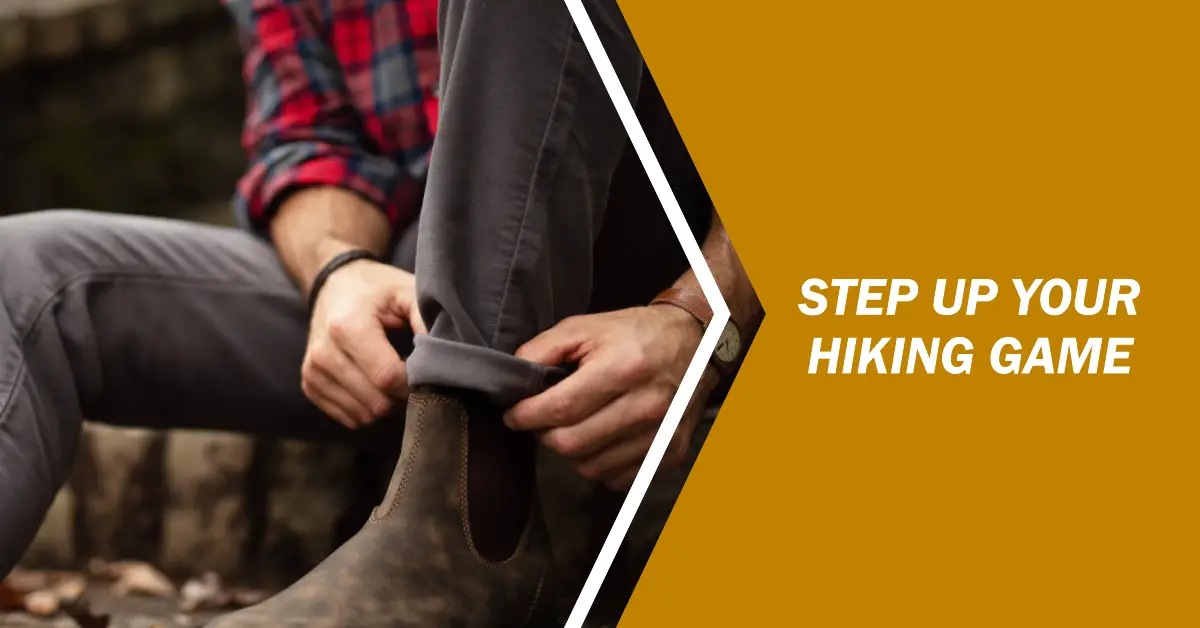 Before examining Blundstones for hiking specifically, let's review some background on what makes these boots unique:
Materials: Blundstones are traditionally made from leather and suede uppers with rubber soles. Some modern versions incorporate textile materials as well. The soles are constructed using an injection molding process.
Style: Blundstones have an iconic Chelsea boot style with elastic sides, rounded toes, and pull tabs in the back. They hit at the ankle or just below.
Comfort Features: Blundstones are known for being comfortable right out of the box, with no break-in period required. The elastic sides allow you to slip them on and off easily.
Weatherproofing: Many Blundstone boots are waterproof or water-resistant. The leather and rubber construction also helps keep feet dry.
Versatility: Blundstones transition smoothly from the trails to the town. Their classic look complements both casual and business attire.
Price: Blundstones retail between $120-$250 USD depending on the materials and features. This puts them in the moderate price range for boots.
How Blundstones Perform for Hiking
Now that we're familiar with what Blundstones have to offer, let's analyze their pros and cons for hiking use:
Pros
Comfortable fit – Right out of the box, Blundstones feel broken-in and comfortable on most feet. The flexibility and elbow room in the toe box promote comfortable miles.
Lightweight – Blundstones are lighter than traditional hiking boots, making them less fatiguing on long miles. Their construction keeps weight to a minimum without compromising durability.
Easy to slip on – Thanks to the elastic sides, you can slide Blundstones on and off without having to mess with laces. This makes them convenient for tackling rest breaks and river crossings on the trail.
Low profile – The ankle height provides ankle support while reducing bulk and restriction of motion. This enhances stability and comfort over varied terrain.
Versatile traction – The thick rubber soles grip well on most surfaces from dirt trails to rocky slopes. Lug patterns provide multidirectional traction.
Water-resistance – Leather or suede Blundstones with seam-sealing hold up decently when streams and rain are encountered. Feet stay drier than regular shoes or boots.
Style points – Blundstones transition seamlessly from the trail to the town. You can wear them hiking, then to run errands after without looking out of place.
Cons
Less ankle support – The low cut provides less ankle stability compared to mid-height hiking boots. High ankle turns are less protected.
Lack advanced traction features – While suitable for many trails, the soles lack aggressive lug patters and advanced compounds engineered for rugged terrain.
Not optimized for breathability – The water-resistant leather doesn't breathe as well as mesh hiking shoes. Feet may get hot in warm weather.
Toe protection limited – The soft rounded toes provide less protection against stubbing compared to the reinforced toes of hiking boots.
Durability concerns – While well-made, Blundstones may wear out faster than boots made for heavy hiking use if taken off-trail. The tread life is limited.
Not customized for orthotics – Inserts may not fit well or perform ideally in Blundstones due to the snug heel and lack of molded support.
When Are Blundstones a Good Choice for Hiking?
Based on their strengths and weaknesses for hiking, here are the best types of trails and conditions where Blundstones can make a great hiking boot choice:
Day hikes on well-maintained trails
Hikes with minimal elevation changes or uneven terrain
Warm to mild weather hiking where breathability isn't a major concern
Hikes ending in town where casual footwear transitions are desired
As a backup pair of camp shoes for rest days or air drying primary boots
Blundstones are also a good pick for new hikers just starting out and exploring different trail types. Their reasonable price makes them affordable to try out.
For challenging terrain, extreme weather hiking, or multi-day backpacking trips, performance hiking boots or shoes are a better bet. They offer enhanced stability, traction, breathability, and foot protection.
Hiking Boot Features to Look for in Blundstones
While not specifically designed for hiking, some Blundstone models are optimized in ways that make them more trail-ready:
Ankle-height shaft – This provides more ankle stability than low cuts while maintaining freedom of motion better than tall boots.
Waterproof materials – Opt for fully waterproof leather or suede rather than just water-resistant. Waterproof breathable membranes enhance dryness.
Textile linings – Mesh or synthetic linings manage moisture better than leather alone. This improves in-shoe comfort on warm days.
Durable tread – Look for deep lugs, strong rubber compounds, and well-placed heel brakes. These enhance traction longevity on rugged trails.
Protective toe caps – Some Blundstones incorporate rigid toe caps to protect against bruising on uneven terrain. Not a complete substitute for steel toes though.
Removable footbeds – Being able to insert custom orthotics improves support and cushioning for challenging hikes. Not all Blundstones have removable footbeds.
Wider sizes available – Many Blundstone styles come in wide sizes as well as standard. This allows a comfortable fit for those needing more room in the toe box.
Hiking Sock Pairings for Blundstones
Just like footwear, your sock choice matters when hiking. The right hiking socks balanced with your Blundstones can enhance comfort, blister prevention, moisture management, and cushioning on the trail.
Here are some hiking sock features to look for:
Merino wool or synthetic blends – They wick moisture and resist odor better than all cotton socks. Wool also helps regulate temperatures.
Light to medium cushioning – Enough to pad without excess bulk that takes up room in your boots. Target cushioned zones to relieve pressure points.
Snug fit – A close fit creates a friction barrier between your boot and foot to reduce blister risk. Avoid loose sagging which can lead to hotspots.
Flat toe seams – Seams placed off the toe tips eliminate irritating pressure points that lead to blisters and calluses.
Moisture-wicking technology – Mesh ventilation zones and materials like Coolmax polyester or Dri-release cotton effectively wick away perspiration to keep your feet drier.
Brands like Darn Tough, Smartwool, Thorlo, Wrightsock, and Balega make excellent hiking sock options to pair with your Blundstones. Pay close attention to sizing for the ideal snug fit. Carry an extra pair to swap out during longer hikes to refresh your feet.
Breaking in Blundstones for Hiking
One of the signature features of Blundstones is how quickly they break-in. The flexible leather molds to your feet almost immediately with no lengthy break-in period required. However, there are a few things you can do to maximize the comfort and performance of new Blundstones on the trails:
Wear around the house first – Putting some casual miles on your new Blundstones before hitting the trail lets the upper materials fully conform to your feet.
Apply leather conditioner – Treating the leather uppers with conditioning oils enhances flexibility right out of the box.
Use orthotic inserts – Adding your own orthotics allows the boot liners to shape to your personalized support needs.
Coat with waterproofer – Spraying your Blundstones with a silicone or beeswax-based waterproofing protects the leather from moisture soak-through as you hike.
Tighten and loosen laces – Snugging up the laces, walking around, then loosening again allows the eyelets and leather to settle into place.
Wear hiking socks – Don thin liner socks under your hiking socks to prevent blisters during the break-in phase.
After these initial break-in steps, you'll lengthen the life of your Blundstones by continuing to properly care for the leather and clean the soles after muddy hikes. Use cedar shoe trees between wears to absorb moisture and maintain the shape.
Hiking Maintenance Tips for Blundstones
To maximize the hiking performance and longevity of your Blundstone boots, keep these routine maintenance practices in mind:
Allow boots to fully air dry after getting them wet before putting away in storage. Stuff with newspaper to wick moisture.
Rinse boots with clean water following muddy hikes to prevent dirt buildup degrading the materials.
Regularly apply waterproofing sprays or balms according to the product's directions to maintain water-resistance.
Use boot bananas or cedar shoe trees between wears to absorb moisture and maintain the boot shape.
Condition the leather uppers a few times per year with oils or waxes. This prevents drying and cracking.
Replace the insoles every 4-6 months or as cushioning wears thin. Aftermarket insoles enhance support.
Check for tread wear and resole as needed to restore traction. Blundstones can be resoled 1-2 times typically.
Use a protective polishing paste or cream regularly to waterproof, condition, and conceal light scuffs on the leather.
Proper care will help your Blundstones hold up well for many miles on the trail. But know that their lifespan for heavy hiking use will be less than purpose-built hiking boots. Budget accordingly when making your purchase.
Frequently Asked Questions About Hiking in Blundstones:
Are Blundstones good for hiking?
Blundstones can work well for casual day hiking in moderate conditions thanks to their lightweight comfort. But they lack some of the ankle support, traction, and foot protection serious hiking requires. Performance hiking boots are better for challenging terrain.
Can you hike in leather Blundstones?
Leather Blundstones have decent water resistance, making them suitable for hiking as long as you treat them with waterproofing spray. Nubuck, suede, and textile models will be less water-resistant. Prioritize fully waterproof leathers.
Do Blundstones have good traction?
The thick rubber lug soles provide fairly good traction that works well for many hiking trails. However, they lack aggressive lugs and advanced compounds engineered for traction like Vibram soles on hiking boots.
Should I get removable insoles for hiking Blundstones?
Having removable insoles allows you to insert orthotics or aftermarket insoles with better arch support and cushioning. This enhances hiking comfort and stability. Not all Blundstones have removable footbeds though.
How do you clean muddy Blundstones after hiking?
Use a stiff brush and cold water to remove dried mud after hiking. Mix a small amount of mild soap into the water if needed to break up stuck-on dirt. Rinse thoroughly, stuff with paper, and allow to fully dry before the next wear.
Conclusion
Blundstones can certainly work as hiking boots in the right conditions thanks to their comfort, water-resistance, and versatility. But ultimately, they fall short of purpose-built hiking boots when it comes to critical features like stability, traction, foot protection, and breathability. Casual day hikers reap the most benefits of choosing Blundstones over more hardcore backpackers and mountain adventurers.
If you do opt to hit the trails in Blundstones, pay attention to sizing and break-in, use proper hiking socks, and care for the leather properly to get the most out of their hiking performance. And know when to switch to serious hiking boots as your adventures ramp up into more challenging terrain.
External Links and Resources:
Blundstone Boots Official Website
YouTube – How to Break In New Hiking Boots